Five Question Friday - October !
YAY! It's October! I love October. Here in Florida we finally get breaks from the intense heat and humidity and get some really nice, warm days. Plus, it is the start of the holiday season in my mind. Halloween is so much fun - not to mention the hayrides and other fun fall activities. From there it is Thanksgiving and then on to Christmas! This month is a busy weekend month - so many fun fall things to do plus a two airshows! The first one is in Daytona -
Wings and Waves
- where I will get to spend some fun times with college friends and the second is in Cocoa -
Cocoa Beach
. I can't wait! I am a huge airplane nerd and Reagan has picked up my love for them so it is going to be really great.
Now on to 5QF hosted by the Lovely
Mama M
. Head on over and link up!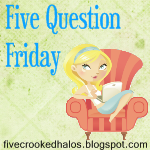 1. Did you have a pen pal when you were little (or now)? Where were/are they from?
Now this question takes me back. I vaguely remember a mail in place where you could write and request a pen pal. I had two pen pals. A girl from England and a boy from Jamaica. I should go through some old boxes to see if I still have the letters and check for them on Facebook! LOL
2. If you could do a different job for one day, what would it be?
Baby nurse – how fun to take care of all the cute little newborns for a day!
3. Do you remember your biggest fear from when you were little?
The only thing I can remember being really afraid of – screaming, crying afraid of – is still a fear of mine today. Birds. If they get anywhere near me I panic. (I STILL need to write that ostrich story as a post – that helps to explain my issues with birds!)
4. What do you think is a waste of time? Why?
These days it feels like cleaning is a waste of time because as soon as the cleaning is over, the mess shows right back up!
5. What is the oldest item you have in your closet?
I have two dresses that I bought in Miami – drunk – many, many moons ago. At least 15 years ago. They are these tiny little hoochie-mama dresses that haven't fit me for a long time and even if they did I doubt I would wear them. That ship has sailed! But, I just can't seem to let them go. LOL
HAPPY FRIDAY everyone! Have a great weekend.