Five Question Friday
Today it's time for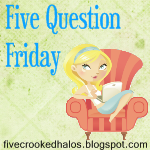 Hosted by
My Little Life
:-)
1. What is your favorite thing about summertime?
Well, living in Florida it is pretty much summer all year so this at first didn't seem easy to answer. But then I remembered that at the end of July, Reagan and I are going to
Ocean City, MD
for our second annual extended family trip. Growing up in MD meant many trips to Ocean City and I have such fond memories of those. Before last year, it had been over 15 years since my last fun trip to OC. It was neat because not too much had changed and while driving around I was flooded with fond old memories of fun times there that I didn't realize were still in my brain. Anyway, last summer was Reagan's first summer so I thought that was the perfect time to start going back to OC every year so she could experience it too. It is a fun filled week with Grandmom, aunts and uncles and cousins galore and I can't wait for this year's trip.
2. What is your ideal retirement location (if money didn't matter)?
I'd like to have a cute little cottage on the beach in a somewhat remote area, a cute little farmhouse with lots of land for rescued animals and the ability to travel to visit family at my whim...if money didn't matter. :-)
3. Do you live in the same town you grew up in?
No. I grew up in
Catonsville, MD
and it was a wonderful place to grow up. It is a suburb of Baltimore but it was more like a cute little quaint town with lots of holiday parades, celebrations and fireworks. I didn't know how lucky I was at the time to grow up there. I left for college at
Embry-Riddle Aeronautical University
and once I saw how great it was to not have to deal with long, cold winters, I was sold on residing in Florida!
4. What nervous habit did you have as a child that you kicked to the curb before becoming an adult?
I don't think I have an answer for this. I cracked my knuckles as a child but still do that. I wanted to keep my pacifier forever but my parents made me give it to Santa when I was 4 so maybe that counts? LOL
5. What is the most embarrassing thing that happened to you while on the job?
That would be replying to someone's email with my true thoughts meant to stay between me and that person and I later see it was forwarded to others. Yeah, it's happened more than once. You'd think I'd learn. I'm working on it. LOL