5 Question Friday - The Weekend is Here!! Woohoo!
I am doing two separate blog posts today. One for 5QF and one to participate in
National Infertility Awareness Week
with
Resolve
. If you'd like to join in the 5QF fun, head on over to
My Little Life
and play along!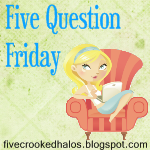 1. If you could buy any car, money not an option, what would it be?
I am so boring anymore with cars. Anytime I've ever tried to buy something other than a Honda it has been a disaster for me. So, I stick to those. As for the model I am currently coveting? The Odyssey - yup, I admit it - I actually WANT a minivan. One of my friends and I frequently do things together out and about with our kids and sometimes we have to take two cars to fit the kids and our stuff. As soon as my little boy is born we will always be taking two cars unless we leave a kid behind at home. But, if I had a minivan then we could still go all in one car! Oh it is the little things. LOL
2. What was your worst first date ever?
It has been so long since I've had a first date and none of them were particularly horrific so I had to think about this one. I suppose it was the time I agreed to go out with a guy that I wasn't really attracted to and didn't have much in common with but decided to give the date a try anyway. It was such a loooooong first date and I was so bored and I kept trying to figure out a way to end it without completely hurting his feelings but he kept talking on and on and on about future things he had planned for the two of us to do and all I could think was GET ME OUT OF HERE! After it finally ended he kept trying to set up a second date with me and there was just no way I was going.
3. How old were you when you fell in love for the first time?
I was in love a million times before I ever got into high school (there was Menudo and Ricky Schroeder and Kirk Cameron and Magnum PI and, and, oh boy I am dating myself here!) but I suppose my first true love was a boy I met in high school who I dated off and on and off and on and off and on and off and on throughout those 4 years. We were never one of those outwardly public couples and never could seem to get on the same page at the same time with each other but I did love him. Part of me probably still does just because he was the first to steal my heart. Haven't seen or heard from him in many years now.
4. When was the last time you reconciled your checkbook?
Don't ask - I am not sure I even know where my checkbook is.
5. If you were going to fashion a "Wanted" Ad for a best friend, how would you word it?
Must be non-judgemental, must not expect punctuality, must be flexible, must be able to laugh at the small, simple pleasures in life. Oh and lots of money to share would be awesome too!
Check back later for my Resolve post!