5 Question Friday - Weekend Plans
Apparently little miss Reagan does not want a pretty proper lady-like picture with the Easter Bunny this year. Yesterday she scrambled away from her daddy, giggling, not watching where she was going and promptly tripped, turned and busted her bottom lip. Just a bit ago I got a call that she was running around outside with Uncle Uncle (what she has taken to calling my brother - if we tell her to say it properly she will but she prefers Uncle Uncle). She ran, telling him - can't get meeeeee - and proceeded to trip and bust her top lip. Today is the day I planned for bunny pictures. My little bruiser is going to be in a pretty little dress with pretty little sandals and a tough cookie busted mouth. LOL I think this is a little karma because it wasn't that long ago that I was discussing a baby product I saw and laughing at who would have to be so over-protective that they would buy
THAT
?!?! Hmmmm....not looking like the most ridiculous idea in the world anymore. But, no, I'm still not going to buy one. Instead, this year's bunny pictures will just have to showcase two busted lips.
Saturday morning we are off to an egg hunt - Reagan's first egg hunt actually. No afternoon plans just yet but there are a few ideas in the works. Saturday evening we are headed over to one of my BFF's house for some casual girl time. Easter morning we will go to sunrise service by the lake at our church and spend the rest of the day with family and friends. I hope everyone has a wonderful weekend and a joyous Easter!
Now head on over to
My Little Life
and link up for some 5QF!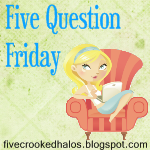 1. What is your favorite Easter tradition?
The celebration of the resurrection at church. Even as a child the Easter service was so exciting to me. The church I attend now has a lake near the property and even though I am not an early riser, I love the sunrise service by the lake. It is just so beautiful.
2. Are you a "shower" or a "long, hot bath" kind of person?
I thoroughly enjoy a long, hot bath however I don't really have time for those anymore. For cleaning purposes though I definitely prefer a shower.
3. Can you parallel park and if so when is the last time you did it?
I suppose, given enough time and patience that I could parallel park but it has never been one of my talents. It was the only area that I lost points during my driving test - points were deducted every two minutes and when you got to like 6 or 8 minutes you failed the entire test. I passed but lost points. I can't remember the last time I actually parallel parked in its true form. Usually I start whining for someone else to take over for that part. Many of my IRL friends can attest to having had to take over for me.
4. What is your favorite Easter candy?
Favorite? Just one? I look forward to the hollow chocolate bunnies the most. Closely behind are Peeps, Cadbury eggs and the egg candy-coated malt balls.
5. Easter: do you go all out with the Easter Bunny or focus on the religious part of the holiday?
We do both. We look at the Easter Bunny and all the goodies as an extension of the happiness and joy that Jesus rose. Easter is a celebration and what celebration is complete without goodies?!
Happy Easter everyone!