Five Question Friday - 12/17/10
Yay! I have a few minutes today to play! If you want to play too, head over to
Mama M's
and join in the fun!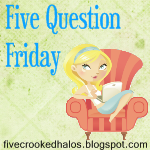 1. Do you regift...and if so, do you have a regifting horror story?
It depends. I will regift something generic to a casual acquaintance in a heartbeat. I don't regift to those closer to me though unless they see something I got and they want it and I don't particularly want it. We reuse the heck out of gift bags though - it's kind of a running joke in our family.
2. Do you know what you are getting for Christmas this year?
I am probably getting nothing because I usually insist that my DH not get me anything. If I need or want something bad enough throughout the year I usually just get it so by Christmas there isn't really anything I absolutely want.
3. Who brings the most gifts in your family, you or Santa?
Santa does. I LOVE the magic that is Santa. I even wrote about it recently - you can read it
here!
4. What store do you love to by jeans from?
Definitely the Tommy Hilfiger outlet store near me. It is the best of both worlds - Tommy jeans are the ones that fit me the best and are the most comfortable AND since it is an outlet store the prices aren't as high as the department stores.
5. Christmas meal: Big, All Out Meal or Snacks and Apps?
Both actually. Snacks and apps throughout the day while the big, all out meal is cooking. :-)
Well, speaking of Santa, I
really
need to get my tree tonight so we can decorate it tomorrow so that Santa has some place to put all those presents for Reagan! Have a great weekend!